Wednesday Feb 01, 2023
CHRIS COOK, on building a new life after competing in one of sport's most iconic finals.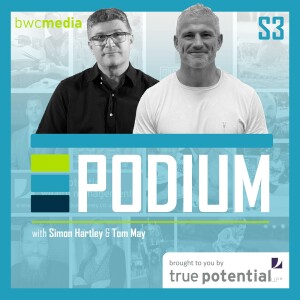 When Michael Phelps won his record eighth gold in the 2008 Beijing Olympics, in the 4 x 100 medley final, today's guest on Podium Podcast was there.
Not there as in watching from the stands. There as in, in the pool. Racing for the GB Olympic team!
It's an almost overwhelming moment to have in the life locker; to be actively involved in one of the most iconic events in the history of sport.
But Chris Cook earned the right to be in an adjacent lane. Sheer hard work and determination resulted in several other accolades, including double Olympian status and multiple Commonwealth Gold medals. He clearly knows how to swim a length or two of a pool at speed.
But perhaps what's more intriguing is how he's transitioned to life after sport. It's a properly considered, soul-searching approach, with all the highs and lows – and essential life lessons - that invariably come with a significant step change.
Simon, Tom & Chris discuss…
- Finding the courage to start afresh.
- The power of silencing your ego.
- Chasing real purpose, not money or medals.
- The importance of doing the hard yards.
Podium Podcast is brought to you by True Potential Wealth Management. To find out more, visit: www.domorewithyourmoney.co.uk